As the tour reaches its mid way point I look back and see the days have just flown by, each day like a leaf in the wind tossed up spinning then landing asleep on the ground. I look at pictures of the first few shows and wonder, was that me, did that just happen. I […]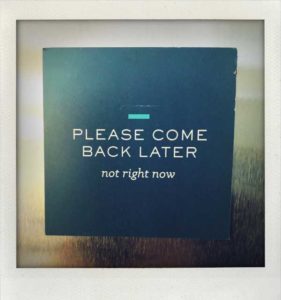 As the tour reaches its mid way point I look back and see the days have just flown by, each day like a leaf in the wind tossed up spinning then landing asleep on the ground. I look at pictures of the first few shows and wonder, was that me, did that just happen. I feel so grateful for this tour and the joy it has provided, so many people coming to the shows and being in the songs with us, like feathers in a pillow. Although tiredness can bring with it some negative thoughts in general I seem to be coping, each day is a breath of fresh air, each day points me ever forward. I miss home so much and the love of my life but I know she is safe, like my children, all safe because they are being looked after from above by the white clouds of love. Today the buses sit outside the hotel as I sit on my bed trying hard not to nap, or lose the flow of this day, a day off. However each day we have off on tour seems to be in places where nothing is going on, today our hotel is a fair view from Denver, close to the motorway and a Mall which is no place I want to be, so its time to find the still in the sparkling.
We have some hefty drives coming up in the next few weeks, mostly 6 to eight hours at a time, some 14 hour drives, being in motion that long for me is not easy, but I visualise the Sussex Downs and see myself walking with Louise in the wind and the calm of our back garden. Touring is a major chunk of this year, not a lot of still, mostly moving and being the chap on stage who's sings Cool For Cats. Nothing will change that, this is my journey one I have been on for the best part of 46 years, on and off. America is so vast that there is no other way to travel other than by bus, or private plane if you have the nerve and the cash, we don't. The food seems to expand in my tummy and I have put on weight being here even though I have not eaten anything out of the ordinary. I miss my granola breakfast, eggs and toast only, lunch normally whatever is backstage, diner is mostly catered at each venue, sometimes nice. No puddings. After the show a quick plate of Sushi before bed, the bunk, the chamber of horrors where Steve Stephen and Melvin wallow in their own dreams and spaces. Sometimes I hear the sound of sleep, these past few nights I have managed sleep in the bunk, with the odd standing still over the loo, not nice. Touring is a major part of my life anyway, here or in the UK, in the Audi or on the busses. I like to keep myself out of the loop, I love my own company, it's where I grow. I find my feet in the standing still of time, here in this hotel room with its own kitchen fully stocked. My own space is sanctuary from the group behaviour that never really fitted me down the years, the mass exodus to this place or that is not for me. Not today, I watch the sky and see the city off in the distance and I have a meal being delivered to my room later, this will be followed by a good night of sleep, prayers and stillness.
Thump, and I fell asleep sitting up in bed with my neck at an odd angle with my wrist on my chin, woke up sometime later and felt like I had been beaten with a plank of wood. It takes so much longer for me to get back to normal after long journeys in the bus, its not ideal but its the only way, for now. I woke up and the sky had turned from blue to grey, clouds forming over the mountains with the heat, the busses still in the car park at the hotel, the news still on the tele, still. I tuned into the BBC News to hear what's going on back home, I remain confused and eager to move to another country, Italy, Canada, anywhere but under the rule of such idiots. It will pass, as it has to with time, we all pass in time, feet drag, time drags and so be it. The nap I tried hard to resist came and took me down, I had no control over its massive power to shut me down and lay me flat, almost, it made its mind up and I went. I must have needed it.
The Grub Hub chap turned up with my curry, I over ordered by two rice, the food was ok, not quite up to scratch but for a night off in the middle it was filler. Rock and Roll behaviour I know, but I washed it down with some decaf coffee brewed in my little kitchen. An early night looks more on the cards than ever although I hear the band are upstairs digging into Pasta and a cheese board, I think I missed that memo. The grey sky is filling with rain, the sheets are out above the wooden houses next to the car park, new houses. Behind us the Airport which is busy, planes keep passing up high, into the grey, into the night. I think I'm happy just sitting here wandering in and out of the tired zone, with a little more effort I'm sure I could be creative, its always an option, the sand in the eyes tiredness prevents the imagination from entering the portal, the side of the mind where my shed is standing waiting for me to come and play pens and pencils. From the middle of this tour the starting point seems far behind us, but the end dates feels further away, one day at a time, it seems like months until I walk through the airport into the arms of home. I feel so far away from that feeling, it will come in its own time, and it will be as if I never went away, except I did. Being in the middle of the tour is like being halfway across a river, its deeper here than at the sides, the current seems calmer but underneath its flowing faster than ever, the middle is a place to reflect upon the feelings past and the feelings of the present moment. Its where the belly looks larger than you want it to, its not very fair. I know I'm doing less walking that usual my only work out is on stage, and thats not exactly James Brown these days, so as look at myself in the middle, it's a bigger middle than I would like at this point of my life.
Trying hard to fight off sleep I stay up and watch more TV, all the channels are splattered with adverts about health maters and cars, food and more cars. Outside the sky is partial lit with shapes of lightning, but I hear no thunder and the planes still seem overhead. Its early for bedtime, its 8pm, my body clock is all over the place, like my head, I do need a good nights laying still, but in fear of waking up too early I'm sitting here boring you with my evening off in Denver. Last night we were in Omaha Nebraska, lots of people came to see us play, we had never been there before so it was a lovely lift to the week. From here we trundle up and across to Seattle for the next day off, this time in a city with things to do and places to walk. More adverts this time about beds, they are big on beds over here, as well as cars Pizza and teeth. Apps are massive too in every add there seems to be someone with a phone showing an app, hotels, pizza, teeth its all on the app, beds now have apps as well. I need to eat more sleep more get more apps and buy a car that will climb mountains and zip through rivers. Trying hard to keep sleep at arms lengths I sit and think about what it means to have home and within it love, my children and my home are so embedded in this deep river that I cross, from the middle I feel the stability of marriage and the onset of another year older. I feel proud of the monkeys and Mrs Monkey, we all swing high in the tree together, being away from home is two or three weeks away, thats a long reach from here in the middle. The branches are easy to cling to as the days race by, thats satisfying in itself.