When you separate puppies and they go off to different homes it's very sad, for the mothers and the puppies, when they for some reason ever come back together, in a park or a field, they have this instinctive knowledge about themselves and start to play. As if they have never been separated, a sense […]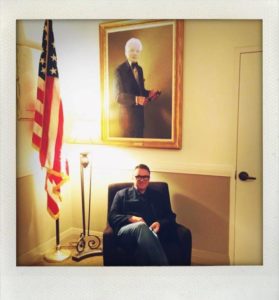 When you separate puppies and they go off to different homes it's very sad, for the mothers and the puppies, when they for some reason ever come back together, in a park or a field, they have this instinctive knowledge about themselves and start to play. As if they have never been separated, a sense of family. Being on tour is something like that, we get dropped on the floor and off we go, reunited in the park of musical delight, there is something very interesting about that to me. When we are apart we hardly ever see each other but when we get on the road within a few days we know our place, our boundary, or respect for each other. We all tug on the same bone, and enjoy the fun of playing and being adored each night is very unique. Up on stage we are singing our songs and trying hard to gauge the mood of the room, trying hard to engage the room. During the day we sit on buses and fade into the hours that pass, on the phone, on the screen or on the bunk. After the show we are let off our leads and in the few remaining hours of the day it's time to relax, or to travel to the next show. So far we have had 4 sold our shows, most enjoyable they have been. Last night I lost myself in my head and bodged some chords, I felt uneasy yet is was fantastic. Not one person or another, not quite on the stage. It happens. I still have not found myself comfortable in my suits, badly fitted, or I have put on more weight than I think I have but with all the other pups its good to be back on in the ball park.
The set is still bedding in after three or four nights, it's long and the pace is yet to be found, it will come and we will glide through the rest of the tour finding our feet each night with more and more light and shade. The band is full of wonderful players who give their all, heart and soul to the shows. Amazing. Our crew are incredible too, they work so hard, I barely have to think, I feel like Price Charles sometimes, I ask for little but little seems to go a long way. Three buses and a truck means that this tour is long and doing well for itself, it's been a long time since we have had so many wheels on the ground, makes me feel good about life. No new record but plenty of the past to ride upon. How good is that. As I get older I watch the audience and see them grow older too, I see the relaxed ones, and the ones who want to dance, the ones who wear our old tour t shirts, the love in each venue is perfect and wonderful. Our crew make us feel at home each day with a set up that works for all. I think we are doing ok for our age, for my age anyway. I see pictures of myself from the shows and my hair looks little on top. Like a cricket ground that has had a good mow, within an inch of its life, but with no rough edges, nothing to lift the profile, I'm not sure. I have new foot peddles on stage, and my guitar sounds better than ever, in all I think the picture looks good. 40 days and 40 nights, its a long old run for these puppies to be back in the pen, it will test our pedigree no end, so far so good. I say my prayers and trust what God has given me in this day to get through the journey, home gets closer by the day.
Here in the back of my bus I have a double bed to sit up on, my clothes hang either side, my I Pad sits on my left with my briefcase and box of Tea Pigs tea. In the next room a shower where we hang stage suits, then the four bunks for the chaps, then the front room for the food more suits and finally the cockpit where our young driver sits. This is my home, rattles an added extra. For me it's hard to sleep here, the bed is above the axel at the back of the bus, and above the large engine that powers this beast. On tonights run I may dive in the spare bunk which is the middle of the bus to see if that's any quieter.
Out of my window today I can see the many cars and busses trucks and motorhomes on this 8 lanes of the freeway, its America and everything seems so wide and so much bigger. That's bus life for you.
Washington was a huge shock for me, in the past we would normally play in a club, tonight we were in a hall much like the Birmingham Symphony Hall in the UK, huge. We were well looked after. Our set worked a treat and by the end of the 90 minutes everyone was on their feet, the joy in the room was edible and I felt emotional. We had walked on water, but hold on, time to get back on the bus for four hours into New York, no time to be King. Peanut butter sandwiches and some fine chat in the front lounge with the chaps, some sleep for two hours then wake up, drag bags from the bus to the room its 4am. Sleep broken dreams shattered and the reality of the night hits you like a hammer. With some sold out shows under our belts the feeling in the camp seems to be high, if it were not for the broken sleep this day would be perfect.
A day off you would think we would be refreshing, its 86% and humid, a walk in the streets is like walking through pie, not so nice, and by the time I change rooms, as I do,(3 times) I feel so tired that I can only muster a few thoughts and feelings. The day is carved like a ham into many slices, none of them feel light or fluffy, the touring world is as harsh sometimes. To round off my day a nice quiet meal with Riley Melvin and Stephen, the days pass so quickly but now I'm content and ready for the bed in the room that should have always been mine. The pups are floating about the hotel, I saw Simon making another video blog on his laptop, he then superimposed Gordon's head on the picture above. Gordon who works with The Who swans around on private jets these days but once upon a time was on the tour with me in my Audi, how we travelled. Gordon my best man, how I miss him on tour. As he says these days don't come back. It's true. Time like a river flows gently one day and rapidly the next, you have to be in the flow to experience the journey, to try and stop the beautiful currents of life is folly, although I try each day to alter the tide and the waves that carry me along in life because that's how I have been programmed over the years. What a breed we are, a cross between so many.