The final week of the American tour was hard work, but so rewarding, long bus journeys and some chocolate chicken, touring at its best. From Phoenix to Austin and across Texas, up to Kentucky and back down to Atlanta, all in one week, what a week. Dave […]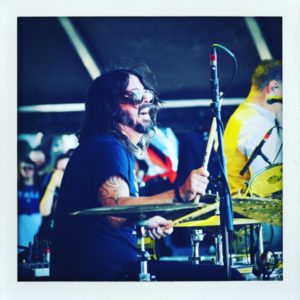 The final week of the American tour was hard work, but so rewarding, long bus journeys and some chocolate chicken, touring at its best.
From Phoenix to Austin and across Texas, up to Kentucky and back down to Atlanta, all in one week, what a week. Dave Grohl played drums with us at a festival for one song, the crowd went nuts. I went nuts. He eats up his day, he embraces all of life and takes part, giving so much back to his fans and to his friends. I loved watching the Foo's last year in London, they really know how to play a big show, they are on eleven at all times. We watched Hall and Oates turn over a set full of hits, I'd say on 8 possibly. I hung out with Robert Plant before his set which I loved. Breath taking. Robert talked about his touring and how he likes to do things, differently, which I admire. Festivals are different in America, not sure what to say, less beer swinging men and boys, less falling over ladies and more music, less fireworks. Catering not as good. Atlanta was our last stop before the flight home. We first played there in 1978 at Rosies Canteen, all these years later and a large hall is packed with fans. It was amazing. I had to pinch myself. It felt like Glastonbury, that same very lifting feeling that makes you rise above the smile. Playing in Atlanta was the best way to end a tour in America, thank you one and all.
The flight home was fine, I slept and buckled up for a bumpy ride with the help of the fantastic crew on Virgin Airways. The Captain made me feel at ease, and did a great job of landing in really awful weather, luckily I was out of this World, high as a lobster on something. And there at the gate my wife Louise, after 7 weeks away it all fell back into place very quickly, the love the connection and the place of home. It was good to be back in my safe place. Flying is always a focus point, the last few days of the tour are always over shadowed by the fear and anxiety of flight. I pace, I wander and wish I place myself in bed and hold on tightly to the sheets hoping that it all goes away. As the bus pulled away from the hotel in Atlanta I wanted nothing more than for the tour to carry on, to delay the flight and be in the womb that touring embrace and that becomes home. It's all ok.
We have a fine crew and a great band, Sean who sat in for Yolanda played so great on the last leg of the tour, he hit the notes that made the songs sound glued together like I had not heard before. He was such a nice man too. Future. In our crew are these fine soldiers, Gary our tour manager who keep a steady hand on all things, and is gracious with it. Des who is production manager and sound man, in many ways, he is lovely and without him we would sound shit I'm sure. Martin on lights, who I saw every morning from one eye open from the hug of my bus, unloading a truck into the venue and at night putting it all back in again, sweating like a wasp. Flea, guitar tech deluxe. Little Chris, who is so wonderful and keeps the engine oiled from a quite corner of the stage. Peter who mixes our in ears, what a safe pair of hands and ears. Louis, who not only sat in for Simon on drums when he had to fly home to say goodbye to his mother, but also sets up the kit each day with full on effort and devotion. Such a cool head. A young head too. A chip of the old block. Carly, she is the queen of all things, smiles hugs and nothing seems too hard for her to arrange, she is a bath tub full of suds. Our truck driver and our bus drivers such nice people too, you need all of that love and devotion to make the wheels on the bus go round and round. And they do. What a great time and what a lucky man I am to be surrounded by such talented people.
The weeks off and all three of them raced by and then here I be in Dublin about to kick off another five weeks of touring the songbook, which is working well. The weather at this time of the year is never great but the crossing on the ferry to Dublin was painless as I reflected on the past few months and made peace with some internal bickering, I have not slept well in three weeks as I wrestled with the hostages in my head, the baggage and the slippery slope that without forgiveness never goes away. Dublin, wet and windy, but it was so nice to see my daughter Cissy, she gets up at four in the morning to bake lovely things for the mouths of hunger here in the Dubs. Yum. I'm very proud of my children they seem to have found independence and self motivation in such a lovely way, life balances all things in the end.
Pondering the future is a disaster for me, I can project things forward and avoid the now in my day, it's dangerous and futile. Sleepless nights thinking about things that may never be, tossing and turning in ponds of shallow fortune. Sleep is more and more just a drip from the shower head of night, my mind races and I lock myself in a room with each problem that I have until I find myself screaming and snoring back into my pillow. It kills me. Being on tour on the bus deprived me of solid nights sleeping, its the price of touring, and then coming home I hope to catch up, but the circus comes to town and the clowns take to the stage again. The now is very much the rain and being here in this Sunday, a day of rest for some, a day of roads and stages for me. We have three shows here in Ireland before heading out on the big one around the UK which is selling better than any previous tour, a blessing. The set is Swiss and running on time, and to the bar, it's not a bad place to be. Already next year is looking full of nice things, more on that next time, but for now it's time for a break in the hostage taking and time to plug in to some sleep. 400 miles yesterday in the car and that just to get to the ferry, my arms aching reminds me how great the tour bus really is. I need a driver.